Copyright 2001, Candy J. Witcher
Detail of new painting by artist, Candy Witcher.

(www.candywitcher.com
)
NOTE: Emmy passed away in February, 2013.
She was our first and passed away at nearly 20 years old.
She is greatly missed......
Amelia
And then, there is Amelia. She was our first kittten, found by my wife at a fair in the Northeast Kingdom of Vermont.
She was a tiny little thing, but had incredible teeth and nails and would attack our ankles every morning.
As a result, Abby was added to act as a companion.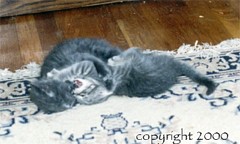 Within the first day of their play together, Emmy had stressed herself so much, our vet had to put her on kitty valium!
I think it had a long-lasting affect on her: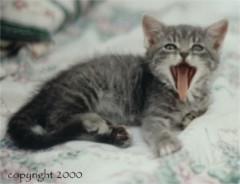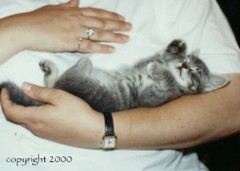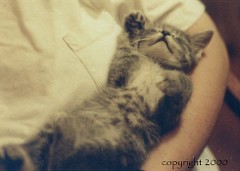 Ever get up on the wrong side of the cat carrier?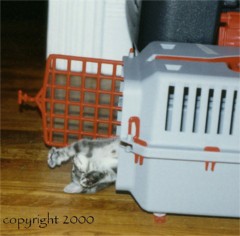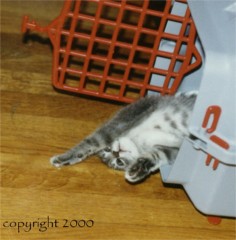 The darned cat can sleep anywhere!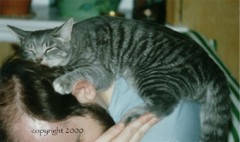 Sometimes she really is awake.....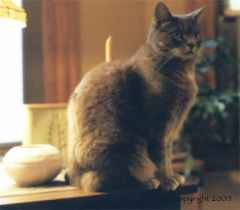 ...But then she quickly settles in for a good wash....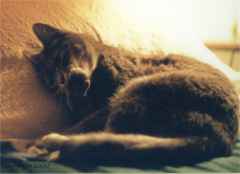 ...even between the toes.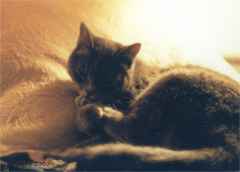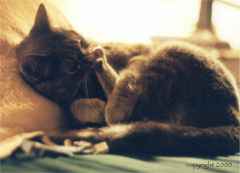 And then sleep sets in,....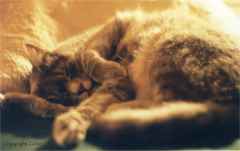 ...but always sleep with one eye open!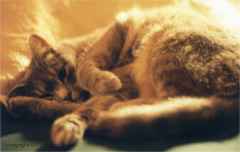 And when she wakes up, she finds Abby for the occasional snooze!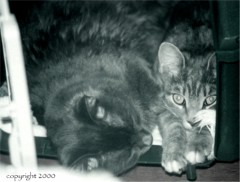 More Emmy Photos:
Go to
Abby
Page /
Emmy
Page /
Nicky
Page /
Genny
Page /
Teddy
Page /
Honey
Page/
Ella
Page /
Petey's
Dog Page

Return to the Kellscraft Studio Home page: