[Last updated 8/31/2016]

COLLECTOR'S PAGE:

NEKRASSOFF


Hammered Pewter
Copper/Pewter
Enameled Copper


Click below for New Nekrassoff information:
* January, 1949 article on Serge Nekrassoff from Science Illustrated!
* Nekras Pieces: The Earliest Nekrassoff!
* Biography of Serge and Boris Nekrassoff

My wife and I are collectors of Nekrassoff (pronounced Ne-KRAS-off) pieces, after having discovered a small (4 1/2" high by 1 1/4" diam.) copper pitcher with green and white speckled enamel in the interior. Once we saw this piece, we were hooked! They have a wonderful appearance, reminiscent of Arts and Crafts metal work from the first two decades of the 20th century. Serge Nekrassoff may have missed the height of the Arts and Crafts period (1890's through 1920), but his work seems to have kept the A&C ideals alive. Don't be fooled, however. Many sellers list his work as Arts and Crafts Period, or even Art Nouveau, with equivalent prices. Nekrassoff pieces are earning their prices in spite of this mis-labeling by sellers. They are really wonderful pieces.





New Nekrassoff Page

I have added a new page of Nekrassoff items without photographs. It is in table format by object type and date, so a quick glance should allow you to find a comparable item you may have or are thinking of acquiring. Click on the image below to go to the Nekrassoff Database page: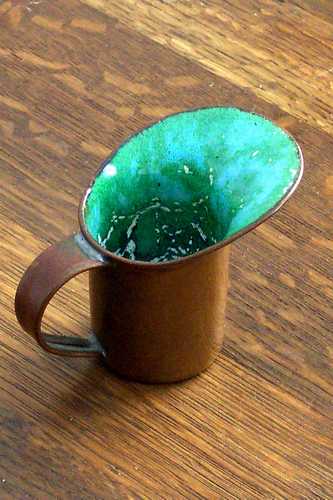 We acquired a couple of additional pieces, after the pitcher, and began asking a lot of questions: Who was this artisan? What was the time period in which Nekrassoff was working? Did he do a small number of items or were there many of the same pieces on the market?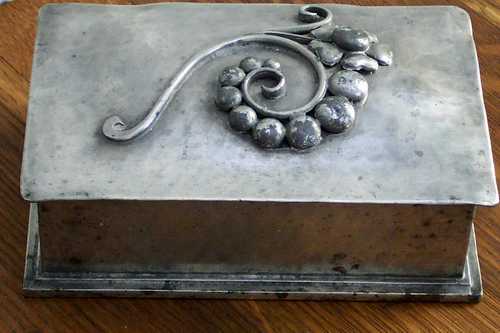 A lot of legwork at the Boston Public Library finally directed us to one work that made minimal reference to the artisan, (see bibliographic notes below). Through sellers of Nekrassoff pieces, a little information has been added or expanded. The following information, which includes conversations with Nekrassoff collectors and Boris Nekrassoff (Serge's son) is what I have been able to uncover, so far:
Serge S. Nekrassoff
Date:
Place:
Information:
1893
Russia
Serge Nekrassoff was born around this date. (1)
@1915
Russia
Served in the Czar's Imperial Guard. (2)
@1918
Germany & France
After the Communist Revolution, Nekrassoff went to Germany and then Paris, France. It was apparently at this time that Serge Nekrassoff began to develop a method of hammering copper that worked without the usual annealing process. (1) The Paris pieces date from 1920.(4)
early
1920's
Argentina
Designing elaborate, ornamented pieces. (1)
@1925
Philadelphia & New York City
Comes to America, first to Philadelphia and then opens a shop in New York City in 1925.(4) His designs were apparently simplified from work done in Argentina. This would be the period when Nekrassoff was using the NEKRAS stamp on his pieces. The majority of pieces made at this time were pewter. (3) (4)

Other types of decorative items were likely also made at this time, but no reference to this, yet.

@1931
Darien, CT
Nekrassoff shop moved to Darien, Connecticut. By this time, pieces being produced were made in pewter, copper, and a combination of pewter and copper pieces. At this time, his son, Boris, joined him to design and make these decorative items. The shop appears to have employed up to 18 craftsmen in this period. Each piece was stamped in script, "Nekrassoff" in the back and the later bird plates were hand-signed "Nekrassoff" on the front.

Nekrassoff pieces were sold around the world, from the US, Canada, South Africa, and London, England. This market ended at the time of WWII and the focus became US shops. (4)

After World War II, copper was the basic metal used, perhaps due to the prohibitive cost of pewter. It appears there were 7 master craftsmen employed after WWII in the shop. (1) (4)
@1952 - 1982

Stuart, FL

By the late 1940's, he is "painting" with fine powdered glass on copper, (enameling process). He is apparently one of a few artists working with enamels at that time. (3) (4)
Many enamel pieces at this time were copper/enamel plates with hand-painted bird scenes. (See Image of Cardinal Plate below for a sample piece). These bird designs included: Goldfinches, Cedar Waxwings, Cardinals, Scarlet Tanagers, Chickadees, Quail, Pelicans, Bald Eagles, Gulls, Robins, and others).

These Bird designs were produced through several decades and were sold through department stores such as Abercrombie & Fitch Co. (1) The shop moved to Florida, and was then called "Serge S. Nekrassoff and Son." Serge Nekrassoff retired in 1979 and Boris took over the shop. He closed the shop in 1982. Apparently, all American made pieces date from ca. 1925 - 1982. (4)

It was in this later period, when pewter and copper pieces were stamped with 'Nekrassoff' and a shield, or crest, design. (4)

Crest Design for Nekrassoff (?)
| | | |
| --- | --- | --- |
| 1. | 1996 | Leslie Pina. Designed and Signed: 50's and 60's Glass, Ceramic and Metalware. Schiffer Publishing Ltd. Page 205. |
| 2. | 1998 | Reference to a description of a Nekrassoff hammered pewter coffee and tea set. eBay, item #42846329. |
| 3. | 2000 | Phone conversation between Sylvia Cornell and Boris Nekrassoff, @ January, 2000. |
| 4. | 2000 | Phone conversation with Boris Nekrassoff and this author (Jeffrey Kelley) @ September, 2000. |

Items From Our Personal Collection: (Small but Growing!).
NOTE: All manufacture dates are estimates based upon my interpretation of the above information and may be incorrect. They should be used as estimates only. All prices mentioned are only an idea of what Nekrassoff pieces currently sell for, and should not be used to price Nekrassoff pieces for resale.

Condition ratings in the descriptions below cover the following range:
Mint - looks like it came from the shop yesterday
Excellent - minor, nearly unseen scratches in enamel, no chips or cracks, with original patina on metal surfaces
Very Good - some small chips or small cracks in enamel that will not detract from overall appearance of piece, some small scratches in original metal finish
Fair - small dents in metal [from use, not the manufacturing process], deep scratches in metal, enamel broken or chipped, would detract somewhat from overall piece, but still visually "intact"
Poor - major dents in metal, large spalled areas of enamel. Purchase piece only if it can be used as a representative piece in your collection (at least until you can replace it with something better!)

Kelley/Wells Nekrassoff Collection:
---
1. Small Pitcher. Enamel on Copper. Stamped "Nekrassoff" on base. 4 1/2" high by 1 1/4" diameter. Copper pitcher with green and white speckled enamel in the interior. Manufacture date: Pre WWII (1940's?). Bought Fall, 1996, for $17. Condition - Very Good to Excellent: Some slight cracks in glaze.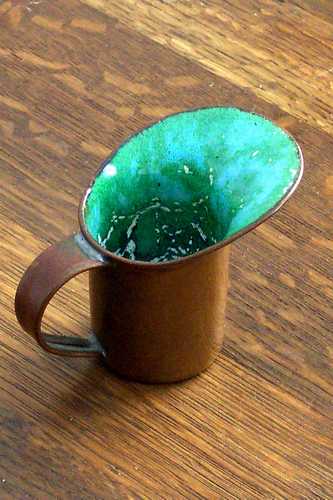 ---
2.Cardinal Bird Plate. Enamel on Copper. Hand-signed on front - unstamped.@ 6 1/4" diameter, 1" deep. Manufacture date: ?? (1930's - 1950's). Bought in as-is condition: $14. Purchased in 1998. Condition: Fair: Damaged on rim (recent damage - probably done while exhibited in dealer's booth)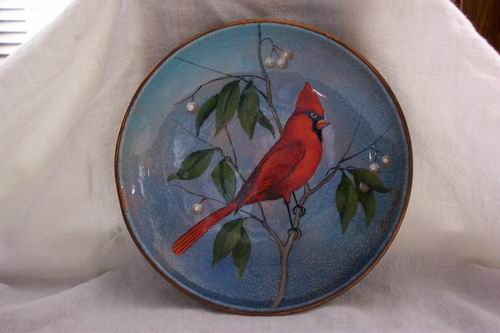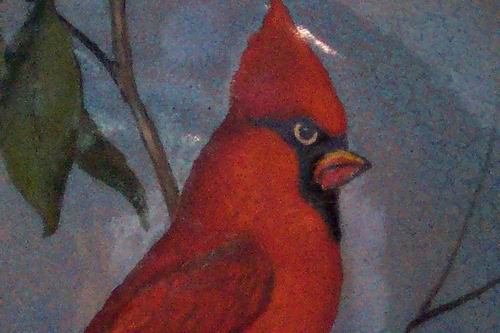 [detail]
---
3. Bowl with applied handle. Enamel on Copper, with Copper and Pewter handle. Stamped "Nekrassoff" on back. 6" diameter bowl, 1 1/4" deep, with a 1" by 4" applied handle. Green enamel with speckled white pattern near center of bowl. Handle is a stylized flower, with copper stem and pewter tulip flower. Manufacture date: Post WWII (1950's?) Bought in 1998 for $52.75. Very Good - Excellent: no cracks or chips in the enamel, some wear on the copper base.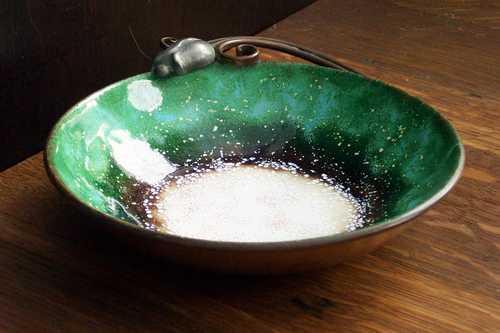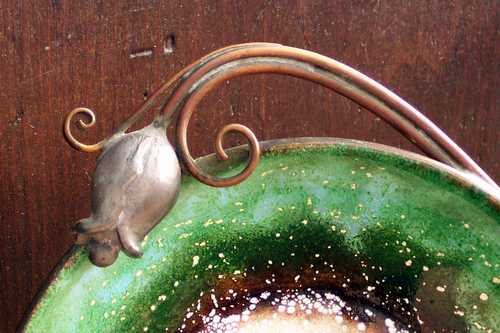 [detail]
---
4. Bowl. Enamel on Copper. Stamped "Nekrassoff" on back. 7" in diameter, 1" deep. Applied copper bead design around rim. Enamel colors range from white, dark blue, light blue and green. Manufacture date: Post WWII (1950's?). Bought in 1997, for $39. Condition: Very Good: slight scratches in enamel, but otherwise good color in enamel and nice patina in copper.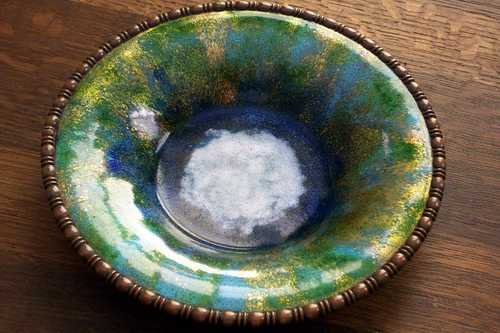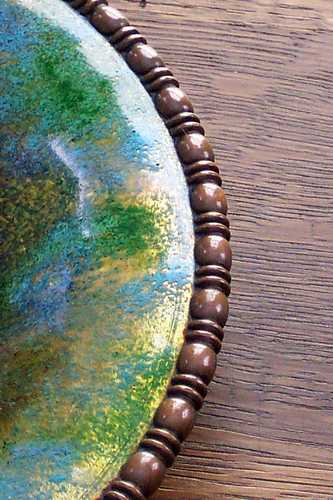 [detail]
---
5. Bowl: Hammered aluminum (?) with 2 applied stylized flowers for handles in pewter. 6" diameter + handles, by 1" deep. Stamped "Nekrassoff" on back, along with an additional stamp (knight's visored helmet over a shield with a diagonal pattern on it with 3 circles). Flowers on handles are tulip shaped. Manufacture date: Ca. 1960's?. Bought in 1998, for @$30. Condition: Very Good to Excellent.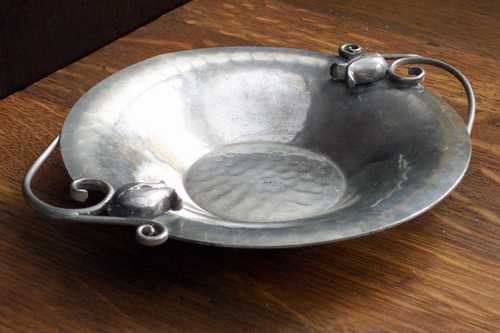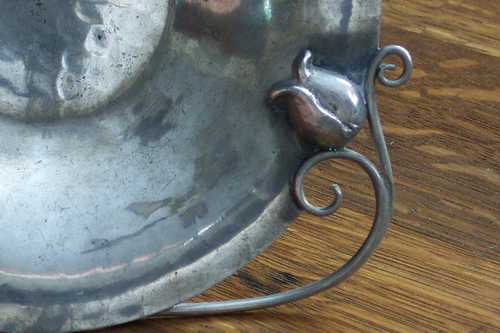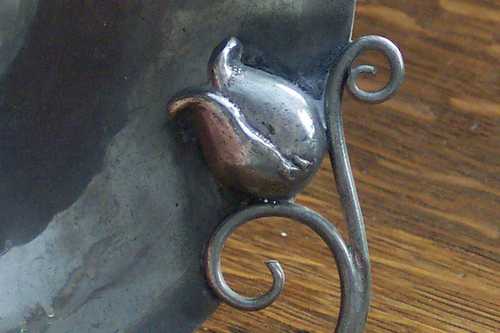 [Details]

---
6. Pewter Box. Applied stylized flower on cover (lily of the valley type). Stamped "Nekrassoff" on bottom. Hinged lid. Dimensions: 5 3/4" long by 3 3/4" wide by 1 1/2" high. Manufacture date: Pre WWII? Purchased in 1998 for approximately $40. Condition: Very Good - some discoloration on flower petals.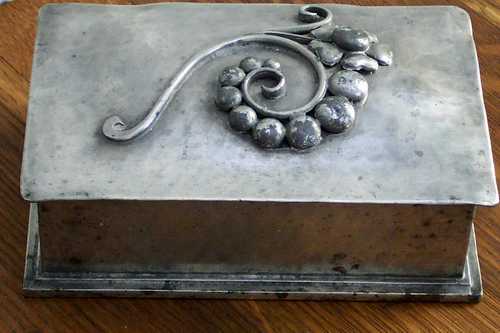 ---
7. Miniature Trays (2). Greenish-yellow and white enamel on copper. Stamped "Nekrassoff" on back. Dimensions: 3 1/2" long by 2" wide by 1/4" deep. Manufacture date: Post WWII, (1960's?) Condition: Very Good - some crazing in enamel, wear on bottom of piece. Purchased from eBay auction site in 1998, for $20.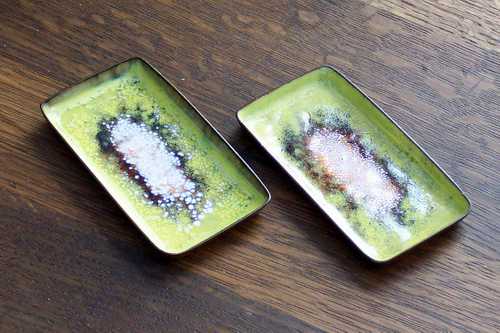 ---
8. Large Hammered Pewter Tray. 11" long by 5 3/4" wide by 1/2" deep, + applied stylized tulip shaped handles. Manufacture date: Pre WWII ? Condition: Very Good - some minor scratches. Purchased in 1998 for $34.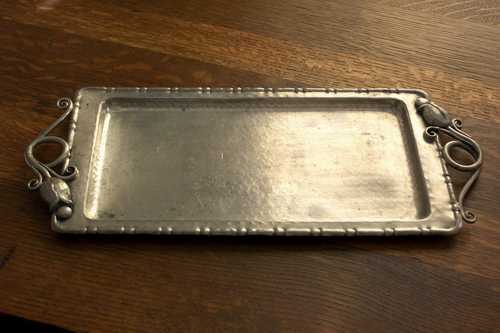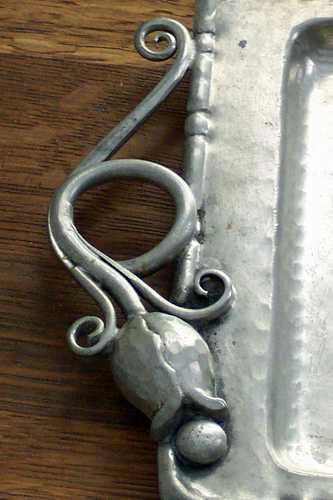 [detail]
---
9. Pair of Hammered Copper Candlesticks. 4 1/2" diameter base. 2 1/2" tall. Condition Excellent - Original patina, with no scratches or dents. Manufacture date: ?? Purchased in October, 1998 for $75.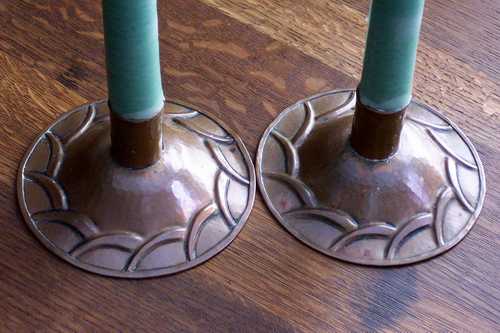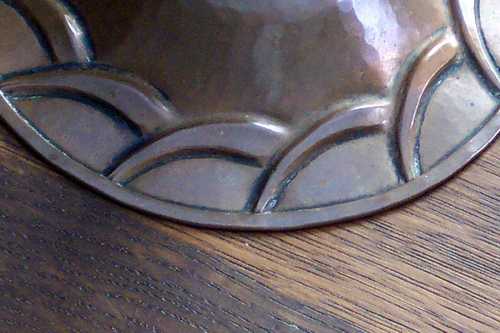 [detail]
---
10. Hammered Copper Cup. 4 1/4" tall by 4" diameter at the top, plus handle. This was a "buy it 'cause its cheap and I don't have one yet!" Condition: Poor - the original finish is badly damaged (as can be seen in the photo below). It currently holds the overflow of my fountain pen collection! Still looking for a better piece than this! Purchased: 1997 for @$10 -$15.
Update: I would normally never try to 'restore' a copper piece, but this was in such bad shape I felt i had to give it a try. I cleaned it with copper cleaner and then "fumed" it in ammonia, which gave a nice, dark finish. I then added a thin layer of butcher's wax to keep it from discoloring further. Not a bad result on something that looked ready for the junk heap!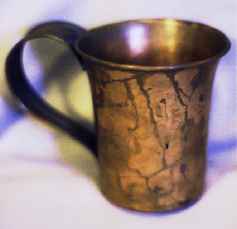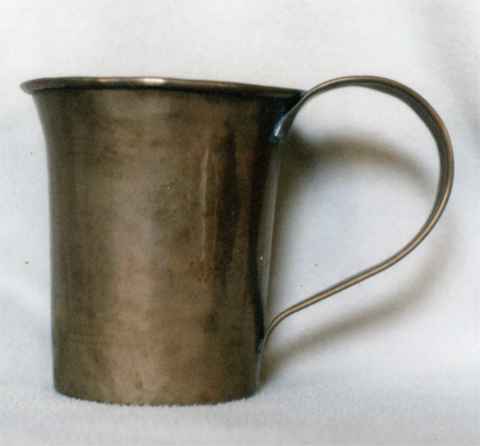 Before.......... and After!!
---

Nekrassoff Collectors' Corner:
Do you collect Nekrassoff? Are you interested in sharing information and images for other collectors? Please email me to arrange to have your collection's images added to this Nekrassoff web page. Email me at: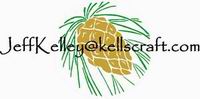 Click below for New Nekrassoff information:
* Nekras Pieces: The Earliest Nekrassoff
* Biography of Serge and Boris Nekrassoff
Click here to return to
Kellscraft Studio
Home Page
Click here to return to
The Web Text-ures
Content Page