Photographs from The Studio!
These photographs and images are presented here for your use as wallpaper for your computer. Each week, The Studio will add new images for your viewing. Feel free to use any of these images on your desktop or laptop computer, but please note that all of the photographs are copyright-protected and may not be published in any form without prior consent from Kellscraft Studio. Please contact The Studio if you wish to publish or print these photos in any medium. Contact us by clicking on the image below: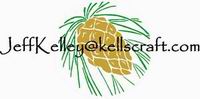 Images:
1. Click on the image below, and when the full image opens, right-click on it.
2. Choose 'Set as Background' (or 'Set as Wallpaper') to establish the image
as your computer wallpaper.
3. Click the Back button to return to this page.

That's it! Return as often as you like for additional wallpaper images! Enjoy!



2009

| | | | | | | |
| --- | --- | --- | --- | --- | --- | --- |
| | | | | | | |
| Ferns and Chicken Coop | Ferns and Chicken Coop (modified) | Ferns and Barn | Ferns | Ferns (modified) | Apple Blossoms | Apple Blossoms 2 |
| | | | | | | |
| Teddy at the Window | Black-Capped Chickadee | Red-breasted Woodpecker | Honey | Pheasant | Fog-frosted trees | Fog-frosted tree and barn |