During the first viewing of the House, the realtor gave us what he had heard of the history of the place.
Skowhegan, ME., was settled in the early 1800's on the shores of the Kennebec River, where rapids spilling around a central island created enough water power to run several mills in the area. Grist mills, paper mills, window and sash mills, spinning mills to manufacture yarn, woolen mills, planing mills, axe and shoe factories; if it could be mass produced from the power of water, chances are Skowhegan had a mill for it.
By the early 1900's a newly organized mill, administered from Boston, MA., came into being, called The Maine Spinning Company. Begun in 1904, by the late teens, they purchased a pre-existing mill building on Skowhegan Island and renovated it by 1923 to expand the production of yarn manufacture. We were told that the Boston administrators had our house built by 1927 as a part-time residence where the board members would stay when they occasionally inspected the workings of the mill first-hand.
We were also told there were no live-in maids, but help would come in to cook and clean for the administrators on a daily basis when they were here. Looking the House over, that seemed to make sense as there were no 'servant' rooms for anyone to stay, but there were a set of stairs from the kitchen to the upper floor that could be closed off by a door, to keep the work area separate from the guests in the House, but still allow the help to clean the bedrooms without walking through the living/dining room to use the main stairs.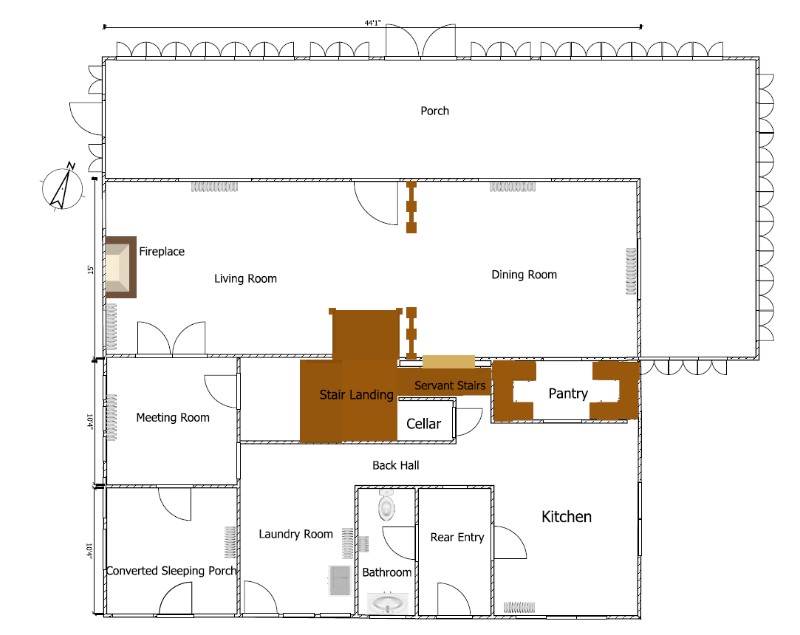 First Floor

(not to scale)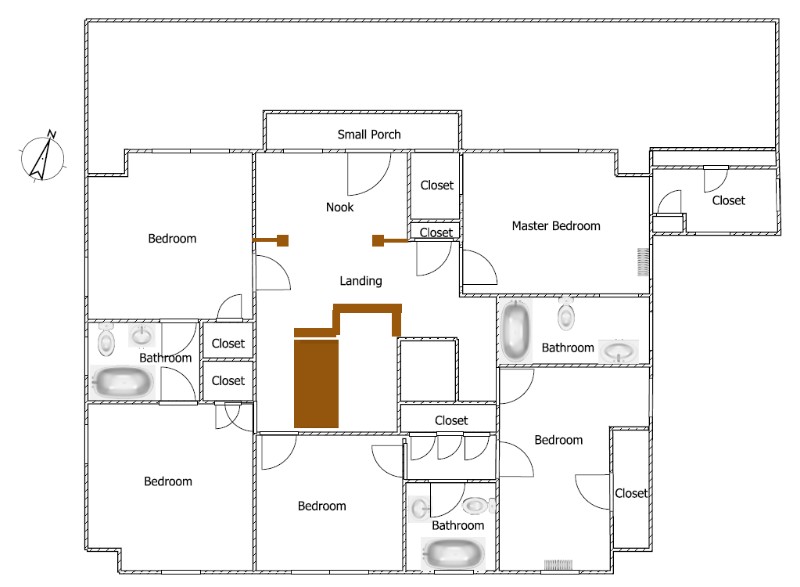 Second Floor

(not to scale)

We were also told that it was used up to the 1960s by the Company, when the only family to live here moved in and adapted it (for two adults and eight children!) Since the Spinning Mill closed some time in the 1950's it also made sense the company would sell off its assets (including this building) and that it would be bought soon afterwards. All of this had only the kernel of truth to it and maybe a bit more of spinning yarns…all pun intended. The facts as we discovered them after we moved in were much more elaborate and fascinating.

One of the amazing things about living in the times we do is the internet, and what you can now find out there as original source material, even for small towns and rural areas. And it's only growing every year. Before we even went to the town hall to do a deeds research, we knew a lot about the Maine Spinning Company. We also had some good guesses about the architecture of the House.

Just by doing a search on the Maine Spinning Company, we quickly could learn about the Mill's history, who its Boston Administrators were, who the Mill superintendant was – it was amazing. But nothing about the House itself. Finding that a large Textile Museum (with old mill archives) existed in Lowell, MA. (The American Textile History Museum) I contacted an archivist there. Did they have archives for the Maine Spinning Company? Yes. Anything about this building being built and when? Unfortunately, no.

Off to the Deeds search! One afternoon in the Registry of Deeds (which, amazingly, had been digitized back to the earliest deeds for the County!) proved the ownership of the House was much more complicated than first thought. Working backwards, we were able to trace the property back to when the Spinning Mill first owned it:

Date Grantor Grantee
3/31/2014 Davis Family (Trust) Jeff Kelley
6/9/1964 George William Yeaton Davis Family (Trust)
8/22/1938 Gertrude G. Mayo, (Will) George William Yeaton
10/1/1935 Charles Turner Gertrude G. Mayo
3/30/1932 Maine Spinning Company Charles Turner

So, the Mill did not use this for very long as a part-time residence, certainly not into the late Fifties or early Sixties. If the 1927 date was right, they only used it for at most five years. What would have caused them to let this building go? The deed of sale and the date of that first sale gives some clues. By 1932, the Depression was reaching its depths. Maine is a tough place to maintain a business at the best of times. In the middle of the Depression? Companies would have looked at what assets they could do without and this House was likely seen as a white elephant by then. Not to mention the fact that it was sold to Charles Turner (Mill Superintendent by the 1930s.) Perhaps in lieu of salary that was getting harder to pay? Perhaps Turner saw an opportunity to buy the house as an investment when the Company was getting rid of things it didn't really need…. Speculation really, but we'd love to know why and how it came to be sold in 1932.

As can be seen, Turner sold the House three years later to Mayo, who gave it in her will to Yeaton. Did Turner or Mayo actually live in the House? We may never know. We do know that Yeaton and his family lived in the house beginning in the late '30s and finally sold it to the Davis family in 1964. the Davises lived here for 50 years and finally sold it to us. While it may have had a shaky start in its first 20 or 25 years, two families lived here for 75 years. And we hope to make it a good, long while also…

And that original date of the building of the house? Well, 1927 was also not quite correct, as an internet search quickly showed. Once again, it is amazing how much original source material actually exists on the net. Doing a search brought up an esoteric publication called The American Contractor. Its main function was to note small and large construction projects throughout the country, and the House happened to be listed in 1920:

The American Contractor:

Skowhegan Me Res – $30,000 W Front St Skowhegan. Priv plans Owner: The Maine Spinning Co. Wm Mitchell supt & mgr Skowhegan. Gen contr Otto Nelson Co Exchange St Bangor Me. Work started [September 4, 1920, Pg 58.]

Contracts Awarded: Waterville Me: Res $40,000 2 sty 37×44 W Front St Skowhegan Me. Archt Horace True Muzzy Waterville. Owner The Maine Spinning Co. Wm Mitchell supt & mgr Skowhegan. Gen contr let to Otto Nelson Co Exchange st Bangor Me. Htg & plmg to Nash & Viles Skowhegan. Ptg to A Fowler & Son Skowhegan. Fdn In [September 11, 1920, Pg 42.]

Not only did we know when the House was under construction (1920), we also knew the architect (Horace True Muzzy,) the General Contractor (Otto Nelson Co.,) Plumbers (Nash & Viles,) and Painters (A Fowler & Son!) And we even knew the original cost of the House ($30,000 to $40,000 – @ $500,000 in today's dollars!)

Oh yes, from the 1900 census for Skowhegan (also available for free on-line) the Superintendent and Manager of the Maine Spinning Mill also lived next door to this House. His house still exists and is undergoing renovations now.

Next Time: We puzzle out the Architectural style of the House