One thing we knew straight away when we first saw the house on-line, this was an American Arts and Crafts house. No question about it. But how did we know? Years and years of research studying the style. The clues were all there, plain to see. More on that shortly.
Let's do a quick overview of American Arts and Crafts house design. Imagine, if you will, the late 1800's when high Victorian design was all the rage. You know the style: heavy, dark, over-carved furniture; dark fabrics and heavy curtains blocking out light; mass-produced items where machinery, not human skill, made more and more of the daily items (remember the Industrial Revolution from your history classes?) Well, there was a revolt against all of it, beginning in England as early as the 1860's.
The late 1800's saw a drive back to quality craftsmanship — hand-made objects that were as much about art as they were about functionality. A revolt, you might say, against the steady progress of Victorian industrialization. In England, noted writers and artists, such as William Morris and John Ruskin, began touting a better way of life from the overcrowded cities booming at the time. And it wasn't about architecture alone. It was the full package – House design, wall paper, furniture design, objets d'art. All of it based on a new respect for quality craftsmanship, living within one's environment, and an aesthetic that harkened back to medieval times.
Similar forces were at work here in America also and by the late 1800's, the Arts and Crafts movement gained steam here in the U.S. As we usually do, we took the English Arts and Crafts and modified it to meet our needs here. Similar to the Shaker movement (but with much less religious overtones), American Arts and Crafts took on a life of its own, quickly moving away from English Arts and Crafts design of floral wallpapers and heavy carving, to a bolder, simplistic style that relied on the material used and stylized design.
American Arts and Crafts Styles:
While all styles can be found anywhere in the U.S., many are known for their regional preferences.
Gothic and Tudor
(New England and East Coast)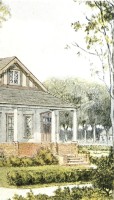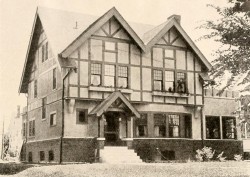 – Reminiscent of mediaeval architecture: exposed exterior beams with stucco finish and stone or brick foundations; castle 'towers' and arched windows can all be part of the overall effect.

Spanish Revival and Spanish Mission
(California and the South-West)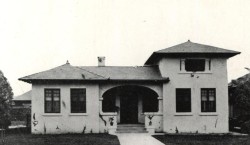 – Found notably in areas where Spanish colonies were present; known for stucco walls and red tile roofs; often with open courtyards incorporated into the overall house design to take advantage of the warmer climates where they are found.
Bungalow
(India-influenced architecture, widely found throughout the US)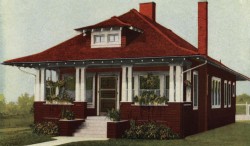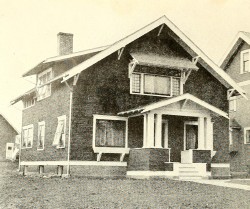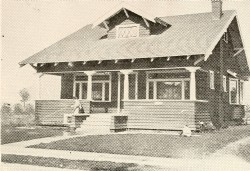 – Often thought of as the quintessential Arts and Crafts house, this design was originally found in India by the British in the mid-1800s and then modified into the style we know today. Simple floor plans and few frills, they were often 1 or 1 ½ storey houses with 2 to 4 bedrooms. Perfect for the average family at a time when servants were becoming less a part of the household and the nuclear family (Mom, Dad and kids) were the only residents.
Craftsman
(Stickley inspired designs: mass-marketed and heavily copied throughout the U.S.)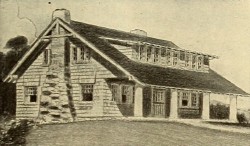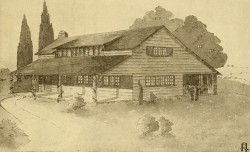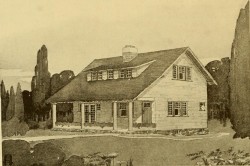 – One of the most well-known brands of the Arts and Crafts Movement, Gustav Stickley published a number of books and articles covering his specific style of architecture. His designs didn't stop at the building, but included furniture, and interior design that created a 'total package." Similar to Bungalow styles, Stickley expanded and put his own mark on this broad architectural style.
Prairie School and Frank Lloyd Wright
(Mid-West) and Frank Lloyd Wright (high-end Prairie style scattered throughout the US but limited numbers)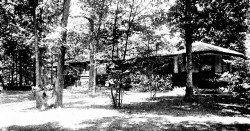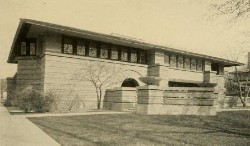 – The Prairie School of architecture created low, flat buildings that blended into the flat terrain of the open prairie. Frank Lloyd Wright took the design to new heights for a select group of wealthy clients. Most of his work would never be incorporated into the common-man's house, but still wondrous to look at…..
Four-Square
(New England, Mid-West and Mid-Atlantic states)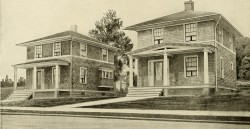 – Larger, square-footprint design, usually incorporating 2 to 2 ½ storey design. Simple but well-constructed, these were popular homes for larger middle-class families.
Here endeth the History Lesson…..
********************
So, what is our house? While listed as a New England Cape, (not really even close) it is the true Craftsman style house.
Any particular design of Craftsman house? Maybe…
Remember that this house was originally designed not as a single-family home, but as a place where the Maine Spinning Company board members from Boston, Massachusetts, would stay for only short periods. Its multiple bedrooms and open nook upstairs, with a Great Hall feel in the combined Dining and Living Rooms on the first floor leads us to think the Architect, Muzzy, may have pulled heavily from Stickley's Club House designs.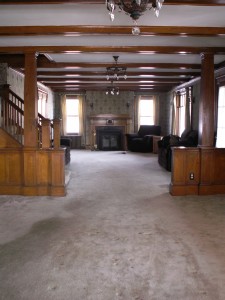 "Kellscroft": combined Dining and Living Rooms
Exterior Comparisons:
| | |
| --- | --- |
| Gustav Stickley's Club House | Muzzy's New England style Club House |
Imagine the Stickley's Club House with an enclosed porch, shingle siding and higher dormers front and back. Let's face it, not too many log-cabin style club houses were being built in the middle of towns and cities at the time, but the Club House concept would have been perfect for the Mill's board.
1st Floor Comparisons:
Gustav Stickley's Club House 1st Floor
Muzzy's New England style Club House
1st Floor
Move the stairs from a corner of the Reception Room to a more prominent and central location and expand the back part of the house for work space for cooking and laundry and you can see the basic plan modified to meet the needs of Muzzy's clients.
2nd Floor Comparisons:
| | |
| --- | --- |
| Gustav Stickley's Club House 2nd Floor | Muzzy's New England style Club House 2nd Floor |
Again, move the grander stairs to a central location, but the 5 bedrooms/dressing rooms still exist, with a central sitting room (or what we call the Reading Nook) right in the same place in the design.
While not a perfect execution of a Stickley Club House design, clearly our Muzzy-designed house (which we have named Kellscroft) owes a lot to Gustav Stickley. His design influence carried on long after him, and the Craftsman brand was no longer a going concern. Why? Simplicity of design that allowed for myriad variations to show through.
Well, that's what we think anyway….
Next Time: We discover some innovative features for the 1920s…