We Buy a House!

We own our first (and last?) home. Well, OK, the Bank owns it – we just buy a few floor boards and shingles and walls a bit at a time every month…. But what a house it has turned out to be!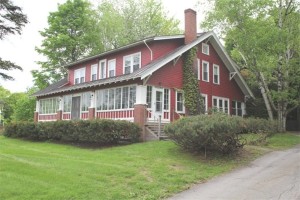 Let me start at the beginning. No, that would take too long. Let me summarize.
Meet a couple married over 20 years, and for various reasons, rented apartments and houses for all of that time. We'll call them Donna and Jeff, just for the heck of it. Married in the Adirondacks, moved to Boston looking for work, settled into the urban routine. No kids – just six cats (and later two dogs). Two jobs and lots of commuting. Then, after 14 years of the big city rat race, Donna became disabled and wanted to move back to Maine where she grew up. So they do. Luckily, Jeff worked for a company that allowed long-distance telecommuting on a regular basis.
They find and rent a picturesque, old farm house (ca. 1820) with attached shed and wood shed. It sat on a dirt road, part of a family complex of houses and fields when Chesterville, ME., was a hot-bed of farming life. Not much has changed there over time, really. It was a perfect place to decompress. Great neighbors, great views, great walks through acres and acres of fields and woods. …This is where those two dogs came in.
But it became time to move on and begin thinking about their own place. So they did. Early fifties and they were first time buyers in search of a house they both would love.
They thought they found a place not far from the neighbors they'd grown fond of. Another farm, with a large 2 story house, out-buildings, and its own apple orchard and little cabin. Then the inspections started. Problems with the septic, electrical upgrades required, walls that would need to be moved to make it comfortable. And then there was the two inches of water in the cellar in January. Not something anyone mentioned before…. Well they got their earnest money back and with sad hearts, began looking again.
Nights were spent on the laptops, emailing links to possible houses across Maine back and forth to each other. Zillow.com was the favorite choice to hunt, with a selection of potential homes to see. Then one night, She emailed one house to Him, with a note – "This might be possible…"
He thought it might be…
It was a 2 story with dormers the length of the roof and a wrap-around, enclosed three-season porch and two massive spruces in the front yard. It was a plein aire painting come to life.
There was one down side – it was back in a town, with traffic and noise and many, many neighbors. And it would be further north in Maine. More snow, more cold, more of everything. But they thought it was worth a look.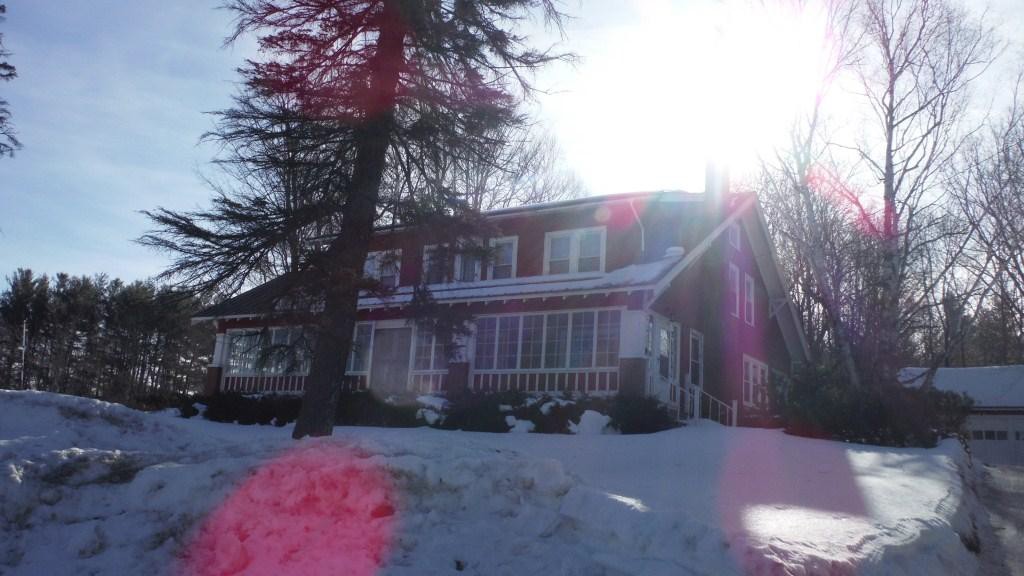 One cold January day, on a whim, they called the realtor to look it over. Late afternoon they arrived in Skowhegan, trying to drive up an ice and snow covered drive that had seen too little plowing that year. They greeted the realtor and went in.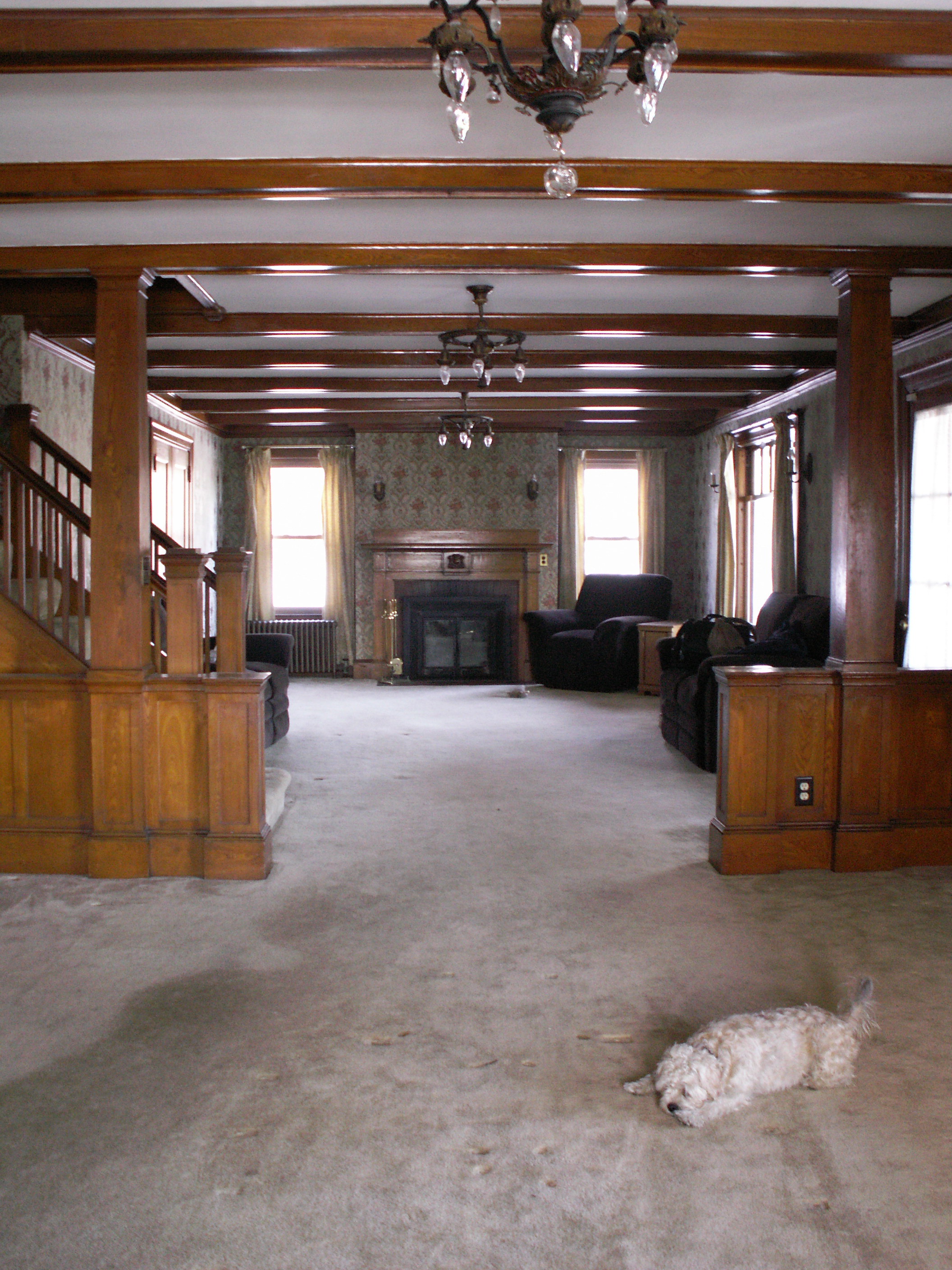 They knew immediately what they had found. A 3700 square foot, high-end Arts and Crafts house. Gumwood throughout. Woodwork untouched from when it was built. Five bedrooms and 3.5 baths. Small kitchen with butler's pantry, dining room, main stairs and living room all part of a Great Room with beamed ceiling running the front half of the house. Original lighting fixtures and the remnants of an original central vacuum system. And a wrap-around porch (600 sq ft) you could land a small plane in…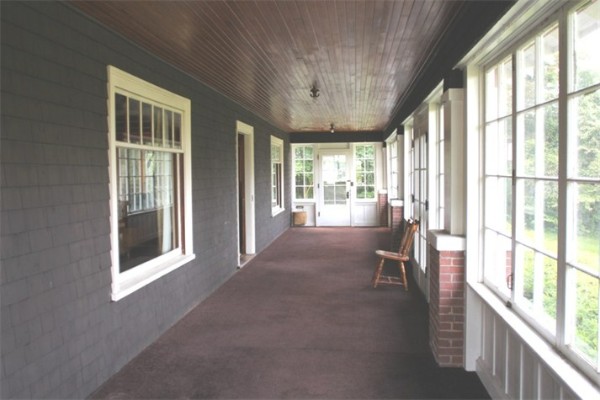 The upstairs was just as great, with five bedrooms off the central stairs and a small, pilastered room they immediately called the Reading Nook. Gumwood throughout, with some pickling of the finish. But that just gave it character… Even with the modern wall-to-wall carpeting upstairs and down and flocked wallpaper from circa 1980, the house had huge potential, and they knew it.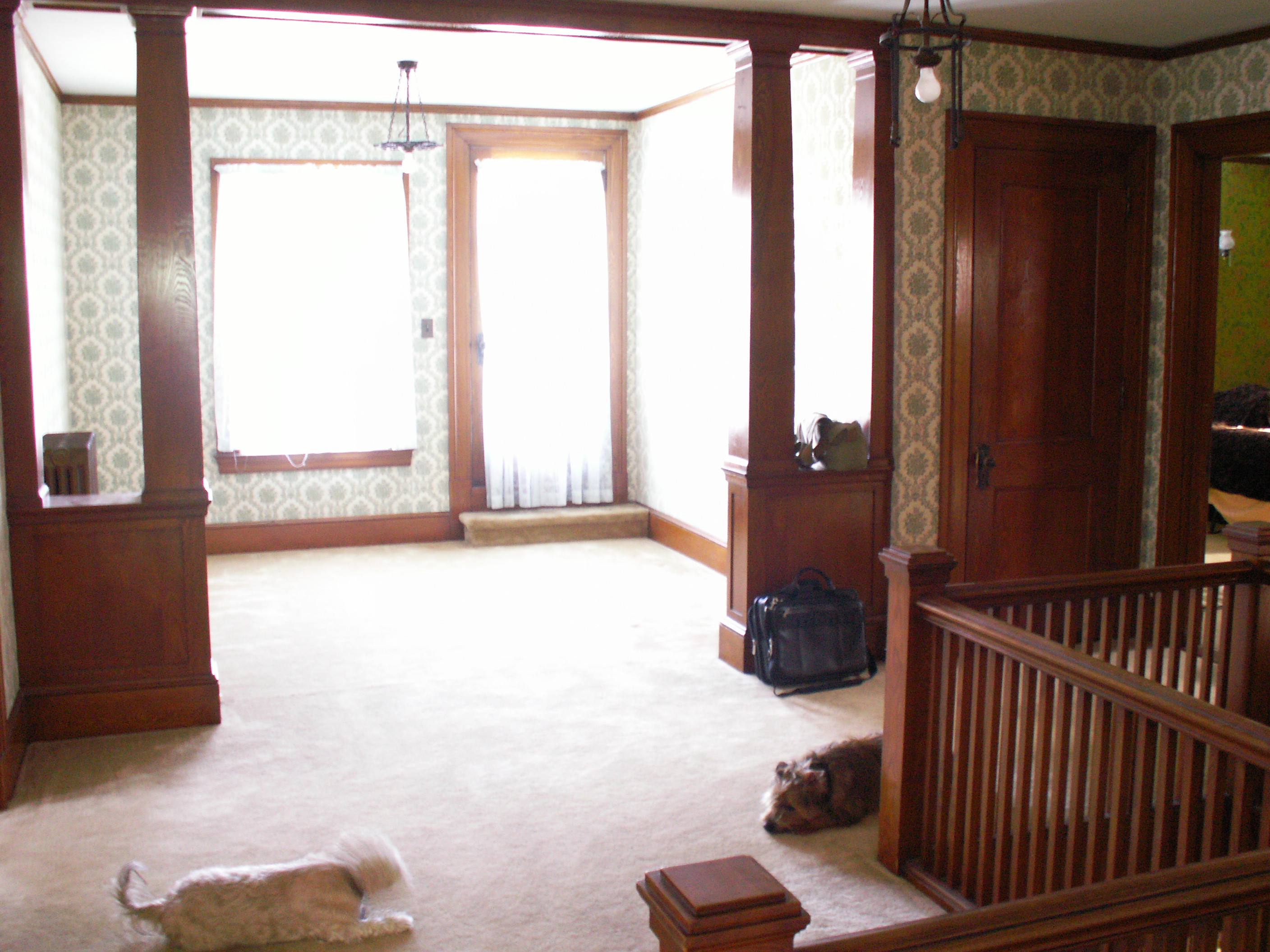 All their married life they loved to antique and early on they began collecting anything Arts and Crafts. Books, original desks and library tables, vases and decorative pieces. This was meant to be…
At $189,900 the price was at their upper range, but doable. If they lived on rice and beans for quite a while. Maybe with hotdogs occasionally….
The drive back was a tense one for them. Could they do it? What were the hidden costs? How much would it take to heat it?
He pulled to the side of the road and She called the realtor. They made an offer then and there. The realtor would get back to them. They drove on to the rented farmhouse they had outgrown. And they waited…
The realtor called back the next day to say the sellers accepted their offer. They were off on the Mortgage race, looking to pull all the pieces together. What could have been a nightmare process to inexperienced buyers turned out only sometimes fraught with stress and anxiety. Everything fell together and only two months later, papers were signed (in blood), first borns were given away, and they were home owners.
Now the fun really began…..
To Be Continued…..
Next Time: We Delve into the History of the House