Kellscraft Studio
Home Page
Nekrassoff
Informational
Pages
Web Text-uresİ
Free Books on-line
Guide to
Illustrators Page
Our Cats'
Very Own
Web Pages!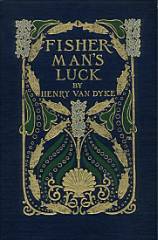 FISHERMAN'S LUCK
AND SOME OTHER UNCERTAIN THINGS
BY
HENRY VAN DYKE
"Now I conclude that not only in Physicke, but likewise in
sundry more certaine arts, fortune hath great share in them."
M. DE MONTAIGNE: Divers Events,
ILLUSTRATED
NEW YORK
CHARLES SCRIBNER'S SONS
1913
Copyright, 1899, 1905, by Charles Scribner's Sons
Published, October, 1899. Reprinted, November,
December, 1899; January, February, September,
1900; September, 1901; November, 1902; August,
October, 1903; September, 1904.
______
Walton Edition, limited to 150 copies, November, 1899.
______
New Edition from New Plates, October, 1905;
August, 1908; May, 1909; June, 1910; August,
September, 1911; July, 1913.
______

Leather Edition, September, 1911.

DEDICATION

TO MY LADY
GRAYGOWN

HERE
is the basket;
I bring it home to you.
There are no great fish in it.
But perhaps there may be one or two little
ones which will be to your haste. And there
are a few shining pebbles from the bed of the
brook, and ferns from the cool, green woods,
and wild flowers from the places that you remem-
ber. I would fain console you, if I could, for
the hardship of having married an angler: a man
who relapses into his mania with the return of
every spring, and never sees a little river with-
out wishing to fish in it. But after all, we have
had good times together as we have followed the
stream of life towards the sea. And we have
passed through the dark days without losing
heart, because we were comrades. So let
this book tell you one thing that is certain.
In all the life of your fisherman
the best piece of luck
is just
YOU.
CONTENTS
I. Fisherman's Luck
II. The Thrilli
ng Moment
III. Talkability
IV A Wild Strawberry
V. Lovers and Landscape
VI. A Fatal Success
VII. Fishing in Books
VIII. A Norwegian Honeymoon
IX. Who Owns the Mountains?
X. A Lazy, Idle Brook
XI. The Open Fire
XII. A Slumber Song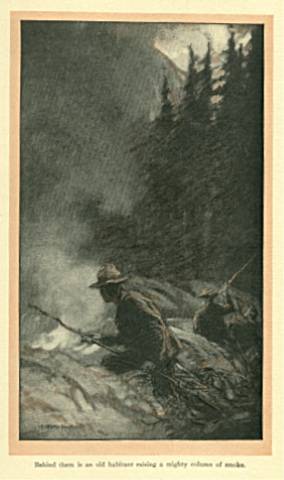 Behind them is an old habitant raising a mighty column of smoke
ILLUSTRATIONS
From Drawings by F. Walter Taylor
Behind them is an old habitant raising a mighty column of smoke
The same irresistible charm
It was my final opportunity
Nature gave me her silent answer
Occupied at the sunset hour by only two
He was following her along the Beaverkill
Up and up we went, curving in and out through the forest