Nekras: the Mystery of Nekrassoff
Every once in a while, a piece of pewter comes up at auction or at an antique store that has the potential of being a Nekrassoff piece, but lacks the true Nekrassoff stamp: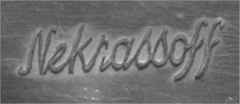 These pieces of mysterious origin are stamped "Nekras" and the script is distinctly different than the pieces made in his shop: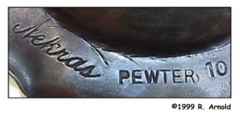 Pieces marked "Nekras" also have additional stamps on them, such as seen in the image above: "PEWTER 10." Nekrassoff pieces, stamped "Nekrassoff", only have the name, with no other marks usually seen. [However, late Nekrassoff pieces from the 1950's on show a crest also (click here to view)]
The Nekras signature above is stamped on the bottom of this piece: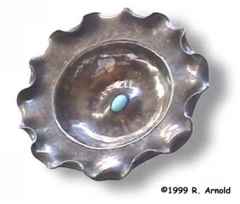 It appears to be a well crafted piece, with the following description by the seller: "a small ruffle edged pewter bowl with a central inlaid turquoise oval glass cabochon. The piece measures approximately 4" across by 1" deep and is marked with a script 'Nekras' signature as well as 'Pewter 10'. " [This image was graciously provided by Ward and June Antiques, as listed on Ebay (Item # 147941109), and the shop owners can be contacted at: wardnjune@copper.net]
So, this is another mystery of the little-known artist, Serge Nekrassoff. Could this be an early piece prior to establishing himself? The Answer appears to be -- YES! Information provided from Boris Nekrassoff, (Serge Nekrassoff's son) that this stamp indicates these Nekras pieces are from the earliest period of the Nekrassoff shop (@1925)! I will continue to try to determine the precise time frame of this stamp, but please keep in mind this is one of the earlier stamps, and therefore much rarer!
Other Nekras pieces: (1925 to 1930):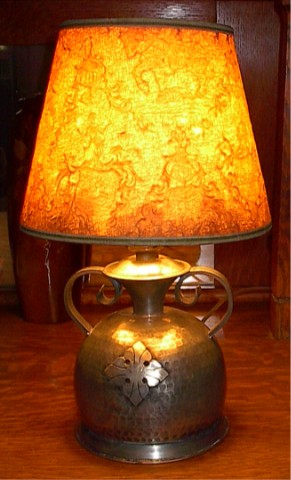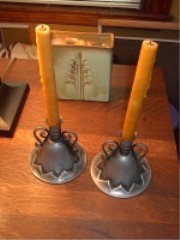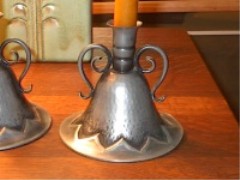 If you have any thoughts or information on Nekras or Nekrassoff, please contact me at: