THE INDIAN FAIRY BOOK.
FROM THE ORIGINAL LEGENDS.
WITH ILLUSTRATIONS BY McLENAN.
ENGRAVED BY ANTHONY.
NEW YORK: PUBLISHED BY MASON BROTHERS. 1856.

Entered, according to Act of Congress, in the year 1855,
by MASON BROTHERS,
In the Clerk's Office of the District Court for the Southern District of New York.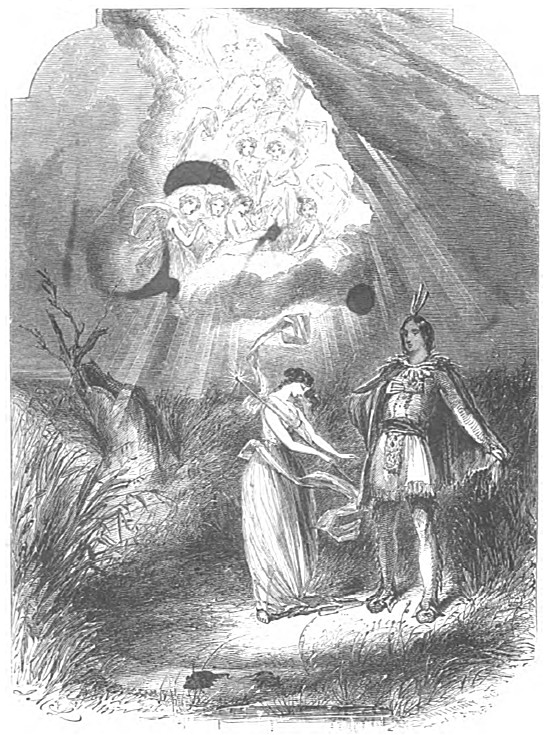 THE CELESTIAL SISTERS

PREFACE.

THE Editor has been so fortunate as to be able to separate from a large mass of Indian material — placed at his disposal by the generous friendship of Henry R. Schoolcraft, Esq. — a number of fairy and magical stories, resembling, in romantic interest and quaint extravagance of fancy, the Arabian Nights' Entertainments, Cinderella, Little Red Riding-Hood, and other world-renowned tales of Europe and the East. To Mr. Schoolcraft, the large-hearted and able pioneer of the literature of the Indian race, the world is indebted for the discovery of such tales and legends, and for their first publication in the primitive form as derived from the aborigines, and interpreted by various competent persons. From this novel source the following volume is derived. The stories are not, it will be thus understood, the coinage of our own times, but such as are and have been, time out of mind, recited around the lodge fires and under the old trees of America, by the Indian story-tellers, to soothe and entertain their audiences of the red children. The Editor has bestowed on them, according to his ability, such changes as similar legends most in vogue in other countries have received to adapt them to the compre­hension and sympathy of general readers. He has at times smoothed out, or lengthened, or abridged the thread of the narrative to make it more obvious and more easily followed. He has endeavored always to be directed by the tone and color of the original clew, and to bring to the surface by such skill as he could command, the latent or obscured beauty and interest of the story. It seems like opening a fresh fount­ain in the wilderness at a late day, when thousands and tens of thousands are thirsting for a new draught of such pure and sparkling waters of fancy as have delighted the world.

The Editor hopes that by means of these beautiful and sprightly legends of the West, the glorious debt which we have incurred to the Eastern World for her magical gifts of this kind, will be, in part at least, repaid.

NEW YORK, November, 1855.

CONTENTS.

I. — THE CELESTIAL SISTERS
II. — THE BOY WHO SET A SNARE FOR THE SUN
III. — STRONG DESIRE AND THE RED SORCERER
IV. — THE WONDERFUL EXPLOITS OF GRASSHOPPER
V. — THE TWO JEEBI
VI. — OSSEO, THE SON OF THE EVENING STAR
VII. — GRAY EAGLE AND HIS FIVE BROTHERS
VIII. — THE TOAD-WOMAN
IX. — THE ORIGIN OF THE ROBIN
X. — WHITE FEATHER AND THE SIX GIANTS
XI. — SHEEM, THE FORSAKEN BOY
XII. — THE MAGIC BUNDLE
XIII. — THE RED SWAN
XIV. — THE MAN WITH HIS LEG TIED UP
XV. — THE LITTLE SPIRIT OR BOY-MAN
XVI. — THE ENCHANTED MOCCASINS
XVII. — HE OF THE LITTLE SHELL
XVIII. — MANABOZHO, THE MISCHIEF-MAKER
XIX. — LEELINAU, THE LOST DAUGHTER
XX. — THE WINTER SPIRIT AND HIS VISITOR
XXI. — THE FIRE-PLUME
XXII. — WEENDIGOES AND THE BONE-DWARF
XXIII. — THE BIRD LOVER
XXIV. — BOKWEWA THE HUMPBACK
XXV. — THE CRANE THAT CROSSED THE RIVER
XXVI. — WUNZH, THE FATHER OF INDIAN CORN


ILLUSTRATIONS.
THE CELESTIAL SISTERS
THE BEAR SERVANTS
THE MAN WITH HIS LEG TIED UP
THE MORNING STAR AND HER BROTHER