Kellscraft Studio
Home Page

Kellscraft Studio
Screen Savers

Nekrassoff
Informational
Pages

Web Text-ures©
Free Books on-line

Guide to
Illustrators Page

Our Cats'
Very Own
Web Pages!
[Editor's Note: The following biography on Robert Bruce Horsfall was provided by Kathy Sanchez, great-granddaughter
of Robert Bruce Horsfall. She was kind enough to write the biography attached. Please note that this information is copyright-protected and may not be copied for any reason without prior permission. -- Jeffrey Kelley, Editor, Kellscraft Studio.]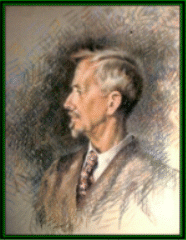 Robert Bruce Horsfall
1869 - 1948
Robert Bruce Horsfall was born October 21, 1869, in Clinton, Iowa. He was the 7th child of John Horsfall and Anne Battersby. He studied art under J.M. Stich in Clinton when he was 14, and then moved to Cincinnati where he studied under L.S. Lutz and Thomas S. Noble. In 1886 he attended the Cincinnati Art Academy. In 1891, Bruce and his brother, Emil, went to Munich, Germany, where they were students of Professors Friedrich Fehr and Carl Marr. Traveling to Europe on a scholarship, he enrolled at the Bavaria Konig Academy in Munich under the direction of Nicholas Gysis, and also attended the Colarossi Academy in Paris. By 1893, he was back in the United States and started as a decorator at Rookwood Pottery. He worked for Rookwood from 1893 to 1895. An example of his work done at Rookwood is in the Museum of Art and Industry in Hamburg, Germany.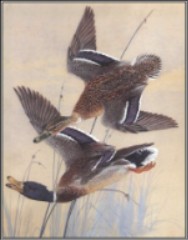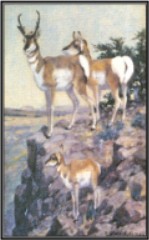 Oregon Ducks, 1915 Antelope, n.d.
Bruce Horsfall became internationally known for his paintings of Wildlife. He was closely associated with Rutgers University Geological Museum and painted backgrounds for many of the museum's exhibits. A hear before his death, he gave the museum his collection of over 1000 drawings and paintings of wildlife. He worked with the American Museum of Natural History, the Peabody Museum of Natural History, the United States National Museum, and was affiliated with the Paleontological Department at Princeton University in Princeton, New Jersey. He was director of Arts for Nature Magazine, research and artist for the Smithsonian Institute. He traveled to establish the natural environment of animals and birds of many countries, painted backdrops and set up for zoological and botanical divisions of the Smithsonian Institute. He painted the famous American eagle, which stands in the entrance of the Chicago Museum of Fine Arts.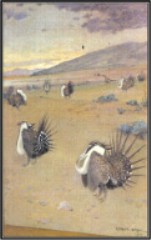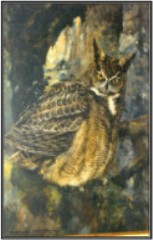 Sage Grouse Strutting, 1917 Great Horned Owl, 1917
In 1871, Bruce married Carra Elizabeth Huntting. They had one child, Robert Bruce Horsfall Jr. He was born in 1908.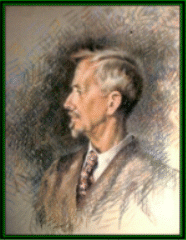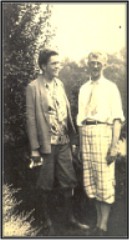 Robert Bruce Horsfall Painted By Garnet Jex Pastel - 1936 Robert Bruce Horsfall with his Wife, Carra in 1930
Bruce Horsfall is best known for his book illustrations of birds and mammals. In 1903-06, he focused on painting birds, and from then on, he devoted his life to the design of plates for books and magazines. Mr. Horsfall illustrated thirty nature books, and was the author of "Birds and Animal Paintings", and did many articles and illustrations for many publications. Other books that he illustrated included Frank M. Chapman's "Warblers of North America", William B. Scott's "A History of Land Mammals in the Western Hemisphere", and Alice E. Ball's "A Year with the Birds". Robert also illustrated and wrote for Nature Magazine. As did his wife, Carra. He held the position of Nature Artists at the American Nature Association in Washington DC. In March 1951, an exhibit of forty bird paintings by Bruce Horsfall was held at the Cincinnati Gas and Electric Company. The Audubon Society sponsored it in observance of the 100th anniversary of the death of John James Audubon. Bruce Horsfall is listed in Who's Who in America 1934/35, and in Who's Who in American Art, 1936/37.
Robert Bruce Horsfall died March 24, 1948 in Washington DC.
--Kathy Sanchez, Copyright April, 2001
Return to Web Text-ures©
Content Page

Return to the Illustrator
List Page