"April appeared, the green earth's impulse came
Pushing the singing sap until each bud
Trembled with delicate life as soft flame,
Filled with the mighty heart-beat as with blood."
IX
NOTES ON SPRING FLOWERS
AN ever-astonishing thing to me in gardening is the overlapping of the times of bloom in flowers. As I walk about in May I am sure to see some inhabitant of the borders up and doing, earlier than I think he should be. One is absorbed in what is already open; the budding of coming flowers goes unnoticed and their little soft, colorful cries for attention come as a surprise.
Under an ancient thorn, known to Professor Sargent and a few others as Cratægus punctata — a thorn which stands against old apple-trees, and which, as soon as the petals of apple-blossoms have fallen and disappeared, becomes a wreath of white against the apple-leaves — under this blooming thorn there stands in a bold group the fine late tulip, Flava. This tulip has a way of fading in curious and beautiful fashion. In its first stage it is one of the grandest and most imposing of early flowers; its bloom is held high in air; its stem is absolutely erect; its color a soft straw-yellow; its leaves very low, large, and of a fine bluish-green; the blooms open wide, their four petals at the top of the stalk, like lilies held erect, and the inside of each petal seems to take on a certain pallor toward the centre, leaving an edge of deeper tone. The effect is indescribably beautiful in its way — a tulip swan-song, thought I, as I gazed.
A fine tulip new to me last spring was Nauticas. Here the color within the petals is Vin de Bordeaux No. 1, shading toward the upper edges to Rose lilacé No.2.1 The inner basal spots of Nauticas are of Indigo grisâtre No. 1, very striking in effect; and the leaves of this tall tulip were of so rarely good a green that even their color was recorded. It proved to be a trifle darker than Vert bouteille No. 4. If any reader wonders at my enthusiasm for this tulip, a flower incomparable as it seems to me, let him place next each other the color plates here mentioned, imagine a finely rising stem and large broad leaves, of the richest of greens, crowned by a rose-purple flower of perfect form. He will wonder no more that the tulip is thus commended.
Of Zomerschoon the rare, the beautiful, I own but a dozen bulbs. A detailed description from the color chart is necessary, as this wonder among tulips has many colors. The upper outside of inner petals Shows Rouge d'Andrinople No. 1, but a trifle lighter than the shade in the plate. There is remarkable life in this color as it appears in the tulip. Flawed and feathered with a true cream-white, with a slightly bluish sheen on the centres of the outer petals, the flower is of indescribable beauty. There is not one to equal it for charm, for luscious combination of salmon and cream. It is never likely to become plentiful, it is such a slow one to increase.
Although we hear rumors of a possible shortage for next season in tulips in violet, lavender, and bronze tones, it is quite out of the question in these notes to pass by one of these beauties. Mauve Clair, a Darwin variety of unusual quality, is one of the best. The general tone of this tulip is Violet de Fume No. 1, while the flame or marking of the outer petals is of Violet d'aconit No. 1. Tulip Bouton d'Or, whose yellow as seen in the French chart is Jaune cadmium No. 1, has a perfectly unvarying tone throughout the flower. Thus I found several of these tulips; yet again, with other blooms of Bouton d'Or, Jaune chrome moyen No. 1, petals edged with No. 3 of the same color, seemed a more perfect description. I give the two for accuracy's sake. The black anthers of Bouton d'Or add appreciably to its interest.
A tulip of far paler yellow than Bouton d'Or is Moonlight, another cottage tulip, so elegant, so distinguished, as to relegate Bouton d'Or at once to a sort of tulip bourgeoisie. Moonlight is beautifully named, with its pale tones of yellow and charmingly proportioned flower. The general tone of Moonlight in the chart is Jaune citron No. 1 or Jaune primavêre No. 1; within its petals Jaune soufre No. 4 prevails.
While among the yellow tulips, Sprengeri, the latest of all tulips to bloom, must not be overlooked. Tulipa Sprengeri, to be sure, is not yellow; it is an orange-scarlet and thereby related to the yellows (Orange de Mars No. 2, edges of inner petals Orange rougeatre No. 1). The outside of each outer petal is flamed through the centre with Rouge cuivre. This tulip I have growing among close-packed roots of a pearl-gray German iris, name unknown. The two come into flower simultaneously; the tulip is quite as tall as the iris, and the two flowers are strikingly good together. Sprengeri grows taller with me than any other tulip, Louis XIV alone excepted. It is a persistent grower, too, appearing year after year as do almost no others except Tulipa Gesneriana, var. rosea, that gay and resolute little bloom always so enchanting above forget-me-nots.
Near Philadelphia last spring a marvellously lovely combination of tulips and iris was to be seen. A long, narrow bed had been made in the centre of a similarly long and narrow piece of sward. This straight line was a glowing band of German iris of the richest purple-blue, and of a brilliant yellow tulip set in tall and ordered groups alternating in effective fashion with the iris. Of the tulips there seemed to be fifteen or twenty in a group, and the variety, I thought, was Mrs. Moon. The name of the iris is wanting; but it was the counterpart of one of my own which I owe to the kindness of a farmer's wife, and whose colors, according to the chart, are Bleu d'aniline No. 4 in the standards and Violet de violette in the falls.
A further suggestion for iris-and-tulip grouping (this from an English source) is a bold use of the deep purple-blue iris thinly interspersed with the lavender Darwin tulip Reverend H. Ewbank. In my own part of the country it is rarely that the Darwin or May-flowering tulip overlaps in time of bloom upon the German iris, but in the lati7 tude of Philadelphia these plants may be expected to give flowers together.
A group of Darwins in brilliant cherry-rose tones we may notice next. These gay occupants of the spring border hold less charm for me than some of their less flaunting fellows, the reason being the difficulty of combining them well with tulips of other colors. True, they may serve as a climax where first lavender, then deep-violet tulips are used in successive groupings. But with white tulips, dead-white, they are not agreeable to the eye; with primrose and yellow they do not particularly agree; with mauve and bronze not at all. The two which shall be singled out for special mention are both Darwins, Professor Francis Darwin and Edmee. The tones of Professor Darwin according to the chart are Rouge fraise No. 2 within the petals, Vin de Bordeaux No. 2 outside. This tulip has a pale lemon-colored pistil and a prismatic blue-black base. In Edmee the outer petals are of Amaranthe No. 1, with much blue in these pinkish tones. These tulips are beauteous instances of the development of their race.
Let me suggest to those who do not yet know the newer Darwins, Cottage tulips, Breeders, and Rembrandts an investment in a few bulbs next fall, if only a' half-dozen of each of some of the finer varieties, and, each for-himself, see the wonders of thess flowers. Make your selections now and place your orders at once for fall delivery. In the first three classes, if I were to choose four out of each as introductory lists, they should be these:
Cottage or May-flowering Tulips: Retroflexa superba, Moonlight, the Fawn, Inglescombe Pink. Darwins: Clara Butt, Reverend H. Ewbank, Gudin, and Sophrosyne. Breeders: Coridion, Golden Bronze, Louis XIV, Goldfinch, Velvet King, and Cardinal Manning.
These are but short lists, not combinations of color — samples of some of the finer varieties in the three classes. Would that I might have named Zomerschoon in the Cottage group — Zomerschoon, that too costly tulip of unforgettable beauty.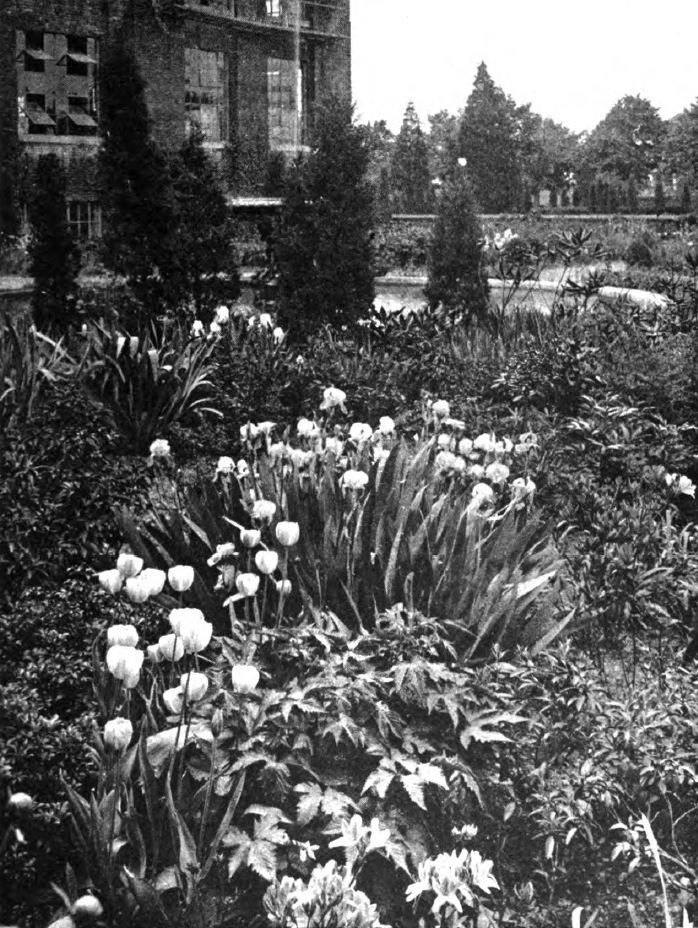 DARWIN TULIPS WITH IRIS GERMANICA




And now for a few combinations of tulips with other flowers. The gayest knot of flowers of spring may be produced by the joint use of Tulips Gesneriana, var. rosea, with one of the taller forget-me-nots, such as Perfection or Royal Blue. In this vivid-crimson tulip there is a dull-blue base; something of that blue is perhaps imparted to the rosy chalice of the flower and makes it perfect company for the sweetest of pale blossoms.

Mr. Divers, head gardener to the Duke of Rutland, makes these suggestions as to combinations of tulips and low-growing plants to flower together: Couleur Cardinal, a single early tulip, with Phlox divaricata; tulip Picotee is also recommended with the phlox; and the same fine tulip with myosotis Royal Blue. This should be exceedingly good, especially as we recall the rosy flushing of Picotee as it ages. For a very lively effect, tulip Vermilion Brilliant is suggested as a companion to the pale-yellow primrose. Mr. Divers uses ribbon grass (Phalaris arundinacea, var. variegata) with Phlox divaricata, tulip Picotee, and Aubrietia Leichtlini, plants which when properly set with relation to each other's heights and habits must surely make a perfect picture in lavender and rose.

Another authority on tulips would have tulip Thomas Moore, that tawny-orange flower, rise above yellow primroses; the Darwin Erguste bloom over Phlox divaricata, or Bouton d'Or with myosotis. All these are good; and a trial of any two together must convince the doubter that half spring's pleasure lies in tulip time.

Tulip Bouton d'Or, almost droll in its fat roundness, and whose rare rich yellow is already described, proved most excellent in conjunction with the cushion irises in flower, such varieties as Isis and Helene. Their strange red-purples were very sumptuous among groups of these tulips. Tulip Le Reve, that flower whose beauty is one of my perennial delights, showed a peculiar charm rising among colonies of Mertensia Virginica. The general tone of Le Reve, according to the color chart, is Rose brule No. 1; the petals are feathered with Rose violate No. 4, while the centres of the outer petals show Lilas rougeitre. The mertensia flowers are of Bleu d'azur No. 1, though more lavender-blue and with greater depth of tone. The buds are of Violet de cobalt No. 1, the leaves Vert civette No. 3.

A suggestion for spring planting noted last season was the remarkably rich effect of tulips Purple Perfection, Vitellina, and Innocence with cut buds and blooms of the superb purple lilac Ludwig Spaeth. A noble combination, this, for a border in which interesting and original color is desired. Tulip President Lincoln I thought a great find. The chart description of it would be this: darkest tone of petal, Violet d'iris No. 2; paler part of petal, Lilas violace No. 2. Let me suggest with every confidence in its value the growing of President Lincoln with the two tulips, Mrs. Collier and Doctor Hardy, shown in color on the cover of the Reverend Joseph Jacob's capital book, "Tulips," that book written from "the innate fire of an enthusiast's heart." The Fawn, the well-known Darwin tulip, was grown among twoyear-old plants of Hydrangea arborescens. Blanc rose No. 3, in the chart, gives an idea of the tone of the outer petals of this very wonderful flower, but its luminous quality will not be described. An underlying tone of palest yellow in the tulip made it peculiarly lovely among the leaves of the hydrangea.

I have come to believe myself among the most impressionable of gardeners; delighted at the least indication of the love of flowers in a casual acquaintance; ever ready to set off at short notice to look at gardens; but not always so delighted with what I find. And since there is in me this critical quality, born doubtless of much looking and comparing when I see, as I saw lately, a garden comparatively small in compass but incomparably interesting, my heart fills with a pleasure not unlike the poet's at the sight of the celebrated daffodils.

In this garden, some of it under tall trees, a city garden not a hundred miles from where I live, on a day in earliest June, there was to be seen a most lovely flower grouping, in which the following flowers had place: Masses of that wonderful pinkish-mauve Iris pallida, Queen of May, tall lupines of rich blue near by, with Iris Madame Chereau back of this, while before the group and among it were opening on tall stems the luscious silken salmon-pink flowers of the two Oriental poppies Mrs. Perry and Mary Studholme. Below these the coral bells of heucheras (alum-root) hung at the tops of slender swaying stems, a slightly richer note of pink than the poppies.

As I beheld this beauty in flowers, I said to myself: "Here is an end to adjectives." I have none in which to adequately describe this loveliness. It must be seen for its delicacy, its evanescent quality. All who garden know the texture of the poppy petal, of the flower of the iris. In no medium but water-color could possibly be expressed the beauty, the daring yet delicate beauty, of this arrangement of flowers. I am permitted the privilege of trying to describe it to my readers; and, while my words are weak, I know full well that any flower-grower is to be congratulated who may endeavor to arrange for himself the picture here set forth. All hardy perennials, all very hardy. Do pray experiment with the beauteous blooms; set them out together this coming autumn in some sun-warmed spot, and in two years behold a picture unsurpassed for subtle color harmony and contrast. In this garden again I saw that the superb poppy of the group above, Mrs. Perry, and the ever-glorious Iris pallida, var. Dalmatica, dwell most happily together, the poppy a round flower, a flower on horizontal lines, the iris perpendicular, standards and falls; the greens of iris and of poppy foliage delicately contrasting; in the one the yellow predominating, in the other the blue.


1 Color references apply either to the French color chart "Ripertohe de Couleurs," or to "Color Standards and Color Nomenclature." by Dr. Robert Ridgway.