"Here is a daffodil,
Six-winged as seraphs are;
They took her from a Spanish hill,
Wild as a wind-blown star.
When she was born
The angels came
And showed her how her petals should be worn.
Now she is tame
She hath a Latin name."
—
"A London Flower Show,"
EVELYN UNDERHILL.
IV.
JOYS AND SORROWS OF A TRIAL GARDEN
THE three indispensable adjuncts of a good flower garden, when considering its upkeep, are, in the order of their importance: a tool-house well stocked, a good supply of compost, and space for a trial garden. In planting for color effect the trial garden is a necessity. The space for it may be small: no matter; plant in it one of a kind. The gardener happy in the possession of the visualizing sense may take the one plant and in his or her imagination readily see its effect as disposed in rows, groups, or large masses.
My own trial garden space is very small; and my idea has been from the first to secure plants for it in multiples of four, if possible according to size. The formal flower garden happens to be arranged alike in all four quarters of its plan, and this habit of balanced planting makes the trying out of eight or sixteen of a kind a really economical thing in the end. If the plants please, and the colors form an agreeable combination with others already in the garden,. their removal in the autumn from trial-garden rows to certain spots in the garden proper, is simple.
A portion of the trial garden is kept for seed, and the balance for small collections of bulbs or plants; except so much space as is reserved for the fours, eights, and sixteens mentioned above. Of Crambe cordifolia, for example, I should never plant more than four, owing to its great size and spreading habit of growth, while of a dwarf hardy phlox eight should be the least. It occurs to me often that some of us underestimate the enormous value of this wonderful plant. Sure to bloom as is the sun to rise and set, varying in its height as few other flowers do, with a range of wonderful color unsurpassed, perhaps unrivalled, by any hardy flower, the gardener's consolation in a hot, dry August, when it maketh the wilderness of the midsummer formal garden to blossom as the rose — there is a delightful combination of certainty and beauty about it which cannot be overpraised. Forbes, the great Scotch grower, in his last list gives six pages of fine type to this flower. It is like a clock in its day of bloom, another great point in its favor. I have, for instance, three varieties of white which follow each other as the celebrated sheep over the wall, each brightening as the other goes to seed. No lovelier thing could be conceived than a garden of phloxes, a perfect garden of hardy phloxes; in fact, an interesting experiment if one had time and space for it would be a garden made up entirely of varieties of phlox; beginning with the lovely colors now obtainable in the P. subulata group, next the fine lavenders of P. divaricata, then an interim of good green foliage till Miss Lingard of the P. decussata section made its appearance, to be followed by the full orchestra of the general group of violets and purples (basses); mauves, lavenders, and pinks (violas, 'cellos, and brasses); and the range of whites (flutes and violins). At the close of this concert of phlox-color the audience must leave the garden. The pity is that August is its last hour. The strains of glorious music, however, follow one over the winter snows.
But this ramble has carried me far afield. To return to the trial garden — heucheras in the following varieties were admitted to this place last fall: brizoides, gracillima, Richardson, splendens, Pluie de Feu, and Lucifer. They flourished superbly, although their little roots had been subjected to the test of a two weeks' journey by sea and land from an English nursery to Michigan. The flower spikes of these hybrid heucheras were thirty-two inches high by actual measurement! Another year, when well established, they should send up even longer spikes. Their colors vary from very rich coral-red to pale salmon, but invariably on the right side of pink — the yellow rather than the blue. This encourages me to think of them in connection with sweet-william Sutton's Pink Beauty (Newport pink). Next year I hope to see the heucheras' tall delicate sprays emerging from the flat lower masses of the others' bloom, since they flower simultaneously. Long after the sweet-william has gone to its grave upon the dust heap, however, the heucheras continue to wave their lacelike pennants of bright color. I hardly know of any plant which has so long a period of bloom. The only heucheras familiar to me before were the common species H. sanguinea and the much-vaunted variety Rosamunde. While these are very beautiful, they have not with me the height nor the generally robust appearance necessary for full effect in mass planting. The leaves of H. Richardsoni (which are, as Miss Jekyll points out, at their best in spring, with the bronze-red color) make a capital ground cover below certain daffodils and tulips, and contrast well with foliage of other tones which may neighbor them in the late summer. These heucheras are not common enough in our gardens or in simple borders. Their brilliant appearance joined to the long flowering period makes them garden plants of rare quality. Let me suggest placing one of the brighter varieties before a good group of white Canterbury bells with the same pink sweet-William already mentioned near by. By "near by" I mean really close by, no interfering spaces of earth to injure the effect. I am unalterably opposed to gardening in the thin, sparse fashion which some gardeners affect, and never let an inch of soil appear. Let the earth be never so good nor so carefully weeded and cultivated, it is only now and again that an edge of turf should be seen, "in my foolish opinion," as the Reverend Joseph Jacob's old gardener is apt to remark to his master, the delightful writer on flowers.
Sixteen peonies with grand French names graced my trial garden this year, standing demurely equidistant from each other in a stiff row. Their bloom was feeble, small, and hardly worth noting for this first season; next year they should be subjects for observation. It was a disappointment that Baroness Schroeder refused to show a single flower this spring. For lo, these many years have I looked at prices and longed to possess this glorious peony; and, now that she is within my gates, to find her refusing to speak to me must be set down as one of the sorrows of this trial garden.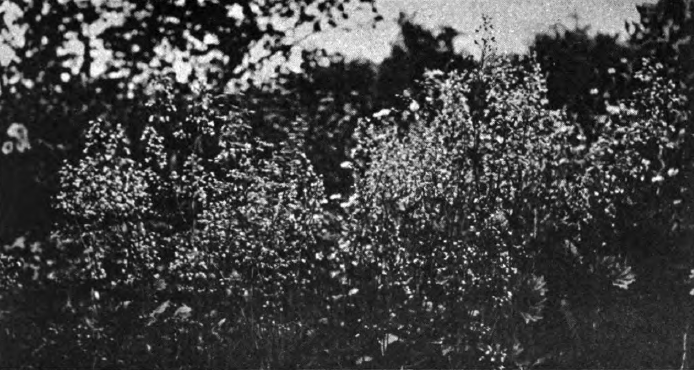 HEUCHERA SANGUINEA HYBRIDS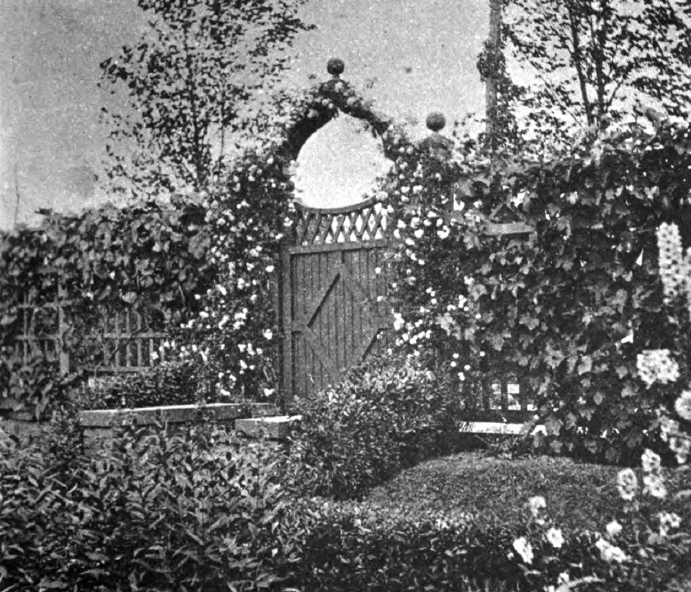 RAMBLER ROSE LADY GAY OVER GATE




But the daffodils! Early in the spring those wonderful varieties suggested by Reverend Joseph Jacob in the columns of "The Garden" as representative of the various classes — those far exceeded and outshone all anticipation. Mr. Jacob's list will be interesting to lovers of the narcissus in this country. I subjoin it:

Yellow Trumpets: Emperor, Glory of Leiden, Maximus, Golden Bell, P. R. Barr, Queen of Spain (Johnstone').

White Trumpets: Madame de Graaff.

Bicolor Trumpets: Apricot, Empress, J. B. M. Camm, Victoria, Mrs. W. T. Ware.

Cups with Yellow Perianths: Albatross, Lucifer, Citron, Duchess of Westminster, White Lady, Ariadne, Lulworth, Dorothy Wemyss, M. M. de Graaff, Minnie Hume, Artemis, Waterwitch, Crown Prince, and Flora Wilson.

Pheasant Eyes: Ornatus, Homer, Horace, Cassandra, Recurvus, Eyebright, and Comus.

Doubles: Argent, Orange Phoenix, Golden Phcenix.

Bunch-flowered: Elvira (Poetaz), Campernelle jonquils (rugulosus variety).

Of each of these I planted two a year ago. Fifty varieties set some four inches apart gave three good rows of daffodils, and of these but four or five were already familiar. The first to really attract and enthrall me was Eyebright. It draws as a star at night. Its rarely brilliant color and distinct form make it one of the greatest joys afforded by the trial garden. Next came the wonderful Argent, a fine star-shaped flower, half-double, pale yellow and cream-white. Then, in order, Barri conspicuus was a very fine daffodil — yellow perianth, with cup of brilliant orange-scarlet. Then Mrs. Walter T. Ware, one of the best of the lot in every way. Gloria Mundi is a very beautiful flower, yellow perianth with a bright cup of orange-scarlet. Sir Watkin, a huge daffodil, and effective, is entirely yellow. Minnie Hume, a pale flower full of charm. Artemis, a beauty, small but of compact form. Eyebright and Firebrand were the brightest and most glowing of the fifty. Elvira, of the Poetaz group, is a telling flower with its rich cream-white bunches of bloom and pale cup of straw-color. This daffodil, grown in masses in woodlands, should produce a very marvellous spring picture. I have fancied, too, that its fine flowers above the low Iris pumila, var. cyanea, might be a sight worth seeing.

These fragmentary notes are all that can be given here. It is hard to choose from so many perfect flowers a few which seem more remarkable than the rest. My practice was, as these daffodils came toward flowering, to cut one from each bulb while hardly out of the bud, label it with a bit of paper high up on the stem, and keep it before me in water for observation and comparison. They were unmitigated "joys" — as daffodils always are. What a marvel to have a few garden things such as tulips, daffodils, and phlox, subject to no insect pests, living through the severe winters of our climate, and in such variety as to amaze those who like myself are only beginning to know what has been done by hybridizers!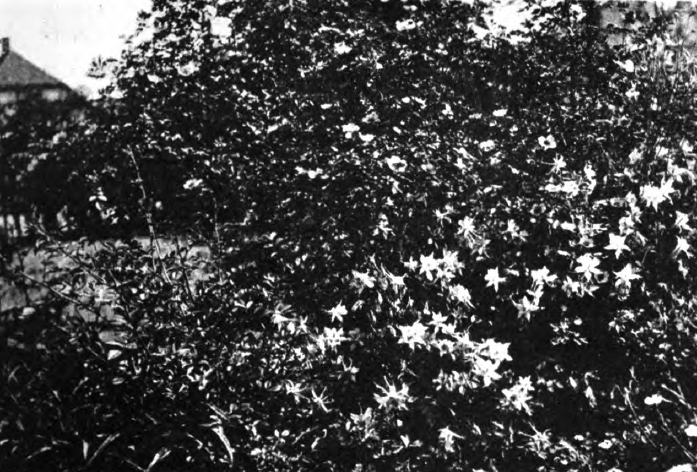 HYBRID COLUMBINES BELOW BRIAR ROSE LADY PENZANCE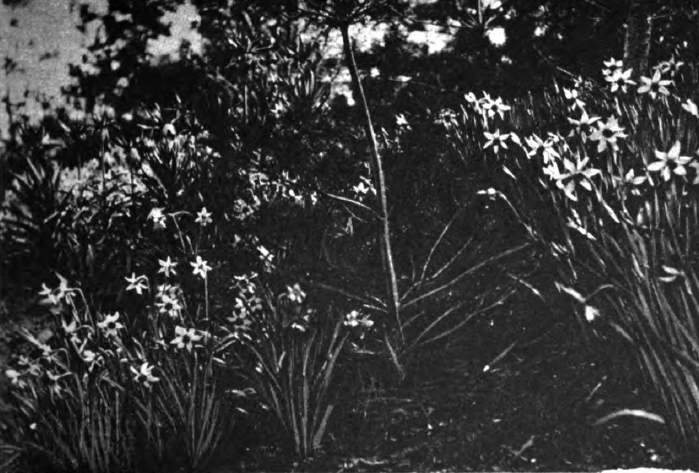 NARCISSUS BARRI FLORA WILSON
Among the joys of the summer in the trial spaces was Clematis recta. So satisfactory was it here that I count on using it freely in the main garden. It grew to a height of perhaps two feet, with loose clusters of white bloom much like those of the climbing C. paniculata, held well above a pretty and shrublike plant whose delicately cut foliage is of a remarkably fine tone of dark bluish-green. The green holds its own well in hot, dry weather, and gives it value as a low background after its bloom has gone.
Perennial phloxes receive some attention in this trial garden. Of these, one new to me, Antonin Mercie, shall have special mention, first because of its good color, a light lilac-lavender; next because of its rather early bloom — August 5 or thereabouts in 43° N. latitude; and last because of its rather low and very branching habit. The spread of its good green leaves and full flower trusses makes it an unusually good phlox for the formal garden, and its resemblance in color to E. Danzanvilliers, the taller and more pearly lavender phlox, fits it admirably for use before the latter. If Lord Rayleigh were just a little later, what a delicious combination of lavenders and violet could be arranged! Phlox R. P. Struthers, a brilliant dark pink, redder than Pantheon, not so red as Coquelicot, more perhaps on the order of the fine Fernando Cortez than any phlox with which I can compare it, is another immense acquisition. This is also early, with a much larger truss of bloom than Fernando Cortez. Standing below groups of sea-holly (Eryngium amethystinum) great masses of this would prove most telling.
Of many other experiments and tryings-out should I like to write here: of Mr. Walsh's fine rambler roses, notably Excelsa, which is in a fair way to equal the popularity of Lady Gay; of some new larkspurs, a small collection of columbines, and another of hardy asters. I will only add a word concerning the one sorrow of a trial garden which has no cure. It is the loss of what the good old Englishman without whom I should be helpless is pleased to call "laybells." When a "laybell" is gone, then is the garden world upside down! All my bearings are lost; and I hate the anonymous inhabitant, the creature without identity, who has the effrontery to stand up and bloom as though he were perfectly at home where those who see him know him not!