PART II
EASTER ISLAND
OUTLINES OF COAST AND POSITION OF PRINCIPAL MOUNTAINS, MAINLY FROM U.S.A. HYDROGRAPHIC OFFICE CHART NO. 1119.
POSITIONS OF CERTAIN LESSER MOUNTAINS, FROM EYE-SKETCHES BY THE AUTHOR.
HEIGHTS OF RANG AROI AND RANG KAO, FROM ADMIRALTY CHART NO. 1386.
HEIGHT OF RANG RARAKU, AS DETERMINED BY LIEUT. D. R. RITCHIE, R.N.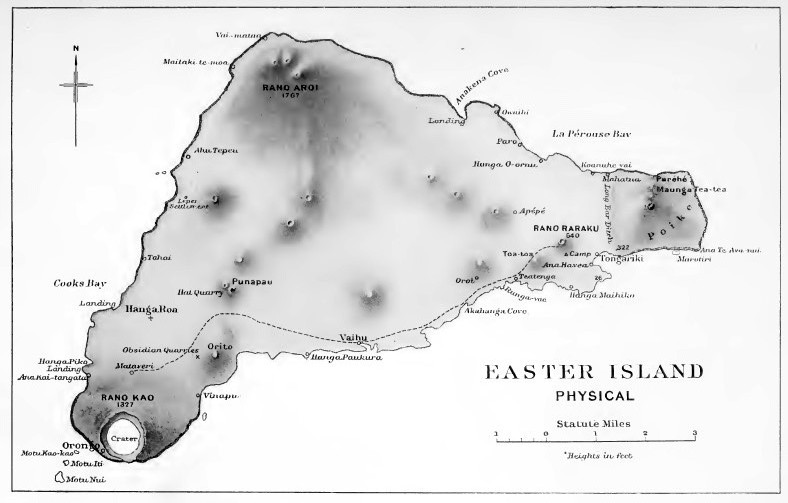 | | |
| --- | --- |
| Ahu - A burial place | Mataa - Obsidian spear-head |
| Aku-aku - Spirit | Maunga - Hill |
| Ana -Cave | Miro - Wood |
| Ao - The clan or clans celebrating bird rites | Moai - An image |
| Ao – A ceremonial paddle | Motu - Islet |
| Ariki - Chief | Nui - Big |
| Atua - God | Paina - A wooden figure, also the function connected with it |
| Hanga - Bay or foreshore | Péra - Taboo for the dead |
| Haré - House | Poki - A child |
| Hau - Hat | Raa - Sun |
| Hopu - Servant to fetch " First egg" | Ranga - Captivity |
| Itt - Small | Rano - Crater lake, also the extinct volcano |
| Ika - Fish | Rapa - Small dancing-paddle |
| Ivi-atua - Person supernaturally gifted | Roa - Long |
| Kai - Eat | Rongo-rongo - Sacred words |
| Kaunga - Function in honour of a mother | Také - Ceremonial retreat |
| Také - Ceremonial retreat | Tangata - Man |
| Ko - Definite article before proper nouns | Tangata ika - A slain man |
| Kohau rongo-rongo - Tablet with script | Tangata manu - The bird-man |
| Koro - Function in honour of a father | Tangata rongo-rongo - Man learned in sacred words (generally the script) |
| Marama - Light (In Tahitian=moon) | Tatane - Spirit (from "Satan") |
| Manu - Bird | Te - Definite article before common noun |
| Manu-tara - The sacred bird (Sooty Tern) | Tea - White |
| Máta - Clan or group | |